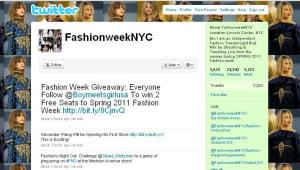 An anonymous tweeter writing as FashionweekNYC began attracting attention in the last few weeks with a steady stream of tweets describing Fashion Week plans. Who was this person? How did he attract 24,942 followers? And who was he working for?
Lincoln Center and IMG both denied any affiliation with the account, but Racked tracked down the man behind FashionWeekNYC: His name is Nathan Stobezki, and he is just some guy. Stobezki graduated from Camden County College last year and now bills himself as a "Fashion Tweetologist." According to Racked:
"He's a friend of a CEO of a major retailer who doesn't go to any shows and, thus, gives Nathan his invitations," our tipster says. "He's just one of those wannabe guys who talks to actual industry VIPs like they've been working together for years when, in fact, they haven't."
His online exuberance has gotten him into some scrapes before, and a previous fashion-oriented Twitter account seems not have taken off in the way FashionweekNYC did.
In retrospect perhaps there were signs that the account was not the work of a hardboiled industry insider:
Success is not the key to happiness, Happiness is the key to Success! Happy Thursday!