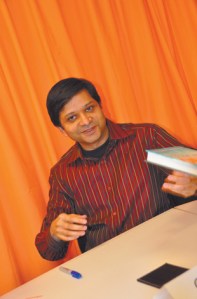 Christopher Poole thought Boston was going to be great. He lasted there just one summer, though, and now he's in New York, where he grew up, trying to get a start-up going.
Mr. Poole, the founder of the mega-popular Web forum for hackers and mischief-makers known as 4Chan, was a sophomore at Virginia Commonwealth University when he visited Boston for the first time in the spring of 2008. Some local tech enthusiasts from Harvard were putting on a whimsical Internet convention called ROFLCon, and by the end of the weekend, Mr. Poole, known as "moot" in the tech community, had fallen in love with Cambridge and decided he had to quit school and move there immediately. He had never before been around people who were as excited as he was about technology. In Cambridge, with all the engineers and mathematicians studying at MIT and Internet policy wonks at Harvard, they were everywhere.
"I remember walking down the Infinite Corridor" — a long hallway that runs through MIT's campus — "and just looking left and right into certain labs, and looking at the posters that were hanging on the walls," Mr. Poole said recently over an Italian soda at the Housing Works Bookstore. "'Human-Computer Interaction Club! Let's meet up and talk about HCI!' It was like I'd found my people."
The plan was to transfer to MIT. By the end of August, though, after a few months of euphoric hanging out and chatting about cryptographic algorithms, Mr. Poole had ascertained that while the talent and the brains were all there, Cambridge as a tech town held no future for him.
Anyone with a stake in the continued growth of New York's Web start-up scene, commonly understood to be crippled by a programmer shortage, had better hope that Mr. Poole's decision to come here was not just a function of the fact that New York is his hometown. In other words, they had better hope that entrepreneurial techies like him—kids who aren't immediately tempted by the salaries available to "quants" on Wall Street or the seemingly endless opportunities in Silicon Valley—don't start thinking it's a good idea to try to make it in Boston, where efforts are under way to build a network of early-stage Web start-ups and angel investors to rival New York's ecosystem.
If those efforts succeed, and top-grade MIT coders start seeing a reason to stay in Cambridge, then the two-front war New York start-ups have been fighting against Wall Street and the Valley in pursuit of the country's most gifted programmers will become even tougher than it already is.
So far, with the exception of Hunch, the recommendation engine whose co-founders include Harvard Business School alum Chris Dixon and MIT grad Tom Pinckney, New York start-ups have not made concerted attempts to establish a direct line into the Boston talent pool. Interviews with recent grads suggest that for all the noise New York social media companies are making lately—hello, Foursquare!—they're still not getting through to the young developers in Boston-area math and computer science programs.
"Making it more clear that they exist would be helpful, for starters," said Adam Goldstein, who bee-lined for the Valley to launch a start-up after graduating from MIT earlier this year. "It would also help to emphasize the things that suck about working on Wall Street."
New York's other problem, Mr. Goldstein said, is that many of the engineers coming out of top programs like MIT and Carnegie Mellon are not that interested in working on a consumer-facing social media services like Foursquare, Tumblr or Kickstarter.
"I think among many MIT engineers, it's viewed as sort of a soft problem—what makes the software work well is the extent to which you can sell people on it," Mr. Goldstein said. "In general, it doesn't require research or new algorithms. People find it less quantitative, and less directly technologically challenging, even compared to working on Wall Street. The same way that some MIT students view Harvard as an easy school where all you have to do is write nicely and suck up-that's how a lot of them view social media stuff."
The fledgling start-up scene in Boston as it exists today began to take shape around 2005, when two locals, Paul Graham and Jessica Livingston, opened a venture firm there called Y Combinator, designed to fund and provide mentorship for early-stage Web start-ups. Boston, of course, has long been a hotbed for technology, but the firms that flourished there along route 128 during the 60s, 70s, and 80s produced either hardware or back-end enterprise software that ordinary people—consumers—never used or cared about.
These days, that is changing, with several entrepreneurs in Boston actively working to make their city more hospitable to small, consumer-facing start-ups that create Web applications similar in character to social media services associated with New York. It has not been easy for them. The main problem is that while Boston is full of brainiacs and huge venture capital firms, the angel investors that early-stage start-ups need to leave the runway—people who might throw a couple hundred thousand at some college kids—have historically been few and far between.
Last summer, the Boston scene took a hit when Mr. Graham and Ms. Livingston, who are married, decided to pull the plug on Y Combinator's Boston operation in order to focus on its West Coast chapter. The primary reason given for the decision was that the couple was preparing to have a child and would no longer be able to sustain a bicoastal life. But in an open letter to the Boston tech community, Mr. Graham also acknowledged that the abundance of angels in the Valley just made it a much better environment for the types of companies YC was built to help.
Many of those who had hoped YC would be a potent catalyst for Boston start-up culture were left grief-stricken and discouraged.
It would have been easy to imagine at that point that the Boston tech scene would be at least temporarily extinguished by YC's departure. But according to people who have since concerned themselves with improving the angel situation in Boston, things have been changing for the better.
One significant factor was the swift arrival of TechStars, a Boulder, Colo.-based early-stage investment firm and "entrepreneurship boot camp" not unlike YC. Shawn Broderick, who directs TechStars' Boston operation, sounded a confident tone in an interview this week, saying that at this point anyone in Boston thinking of starting a tech company would be "crazy to leave." "We've seen a lot of changes in the last two years that make that ecosystem much healthier," he said. "There are definitely more start-ups and there are more dedicated small funds that are investing in those start-ups."