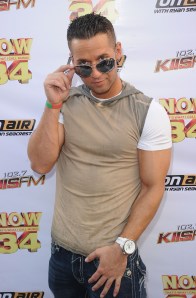 Everyone knows that Village Voice 'Queer Issue' cover boy Mike "The Situation" Sorrentino is currently rolling in it. He might make $5 million this year alone. He gets $60,000 an ep for the Jersey Shore. He's going to broaden his audience with a Dancing on the Stars nod. So what should he spend that hard-earned cash on?
1) A $2.9M Nolita Penthouse: We would've picked Little Italy itself, but everyone knows no real Italian-Americans live or work there. Nearby Nolita, which stands of North o' Li'l It'ly, is a hotspot for restaurants, bars, and culture–the perfect redoubt for a savvy dude from Albany like Mike.
As it happens, there's a lovely Mulberry Street penthouse with his name on it! It costs a cool $2.9 mil, and comes with three sweet bedrooms. It's lit like a trashy tiki bar in Seaside Heights, so he'll never feel too far from home. If he's feeling particularly industrious, he can buy out the whole damned building–all eight floors are on the market. Together they'd cost a little over $18 million, but unfortunately, as we were informed by the realtors, there's no discount when you buy them up all at once. Not even if you have exceptionally chiseled abs.
2) A Hell's Kitchen Gym-Tanning-Laundry Mega-Fortress Called "GTL": People drink at gyms now, so their minds probably wouldn't be so blown at the prospect of doing their laundry and tanning in the same place. Even though a venture this massive will likely cost far above $5 million, we're sure Mike could find some business partners who believe in the power of the 29-year-old's clearly-defined (and well-established!) GTL brand. He could also save himself some time and planning and just invest in this.
3) A Staten Island Mansion on Top of a Ritzy Hill: Mike used to work as a stripper on the South Shore of New York City's Forgotten Borough, which is a stone's throw from Dirty Jerz itself. In fact, geographically speaking, Staten Island belongs more to New Jersey State than to New York City, and would probably be a part of Jersey had it not been for certain histori-nautical factors–i.e., the fact that you have to navigate between Brooklyn and Staten Island to get to Manhattan's safe harbor waters. As a former resident of the borough myself, I would advise the Situation to choose Emerson Hill over Todt Hill. Less mafia-y.
4) (West?) Hollywood: Perfect for shirt-raisin', papparazzi-lovin' fameballs.
5) The Moon: Perhaps Mr. Sorrentino should escape reality before reality TV consumes him.