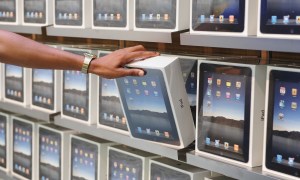 Former Newsweek president Mark Edmiston is starting a magazine specifically designed for the iPad, according to The New York Times. The project is called Nomad Editions, and it seems doomed from the start.
Mr. Edmiston will keep a staff of 12 but rely on freelance writers to fill the iPad magazine with articles on subjects of interest. Movies or surfing are two possible topics mentioned by The Times. The magazine will go out to subscribers' iPads every Friday and it will take about 20 to 30 minutes to read, according to Mr. Edmiston.
We have seen this model plenty of times before, most recently at Forbes. The website The Faster Times also comes to mind, as does The Huffington Post. But these aren't subscription based models. And when you're talking about building a strong body of weekly readers, the quality of the writing has to be good. Of the three aforementioned properites, Huff Po is the most successfull, and not because the writing is stellar. Huff Po's success revolves around technology, immediacy and an obsessive amount of coverage. Not one of those things — well, maybe technology — seems possible in a weekly iPad magazine.
"There's lot of talent out here that's underemployed or not being fairly paid," Mr. Edmiston told The Times. But it doesn't seem like Nomad Editions is going to fix either one of these problems. From The Times:
Writers will earn up to 30 percent of subscription revenue per edition per week, while editors will make 5 percent of the same revenue with an additional cut of the advertising dollars. Mr. Edmiston estimates that writers can make anywhere from $50,000 to $60,000 a year if their area of expertise attracts an average of 50,000 readers.
But 50,000 is a long way off. Wired sold its June app to 79,000 people, and that number was propped up by early iPad-adopter glee and help from Steve Jobs, who showed the cover of the first iPad edition on stage when he presenting the iPhone 4. How can a start-up that's chunking contributors together hope to approximate Condé Nast circ numbers on the iPad?
The good news is that more experimentation and more start-ups will only make the iPad, and other e-reader platforms, stronger. Mr. Edmiston could be on to something, for all we know.