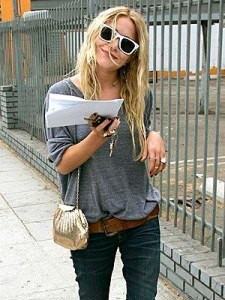 Over the weekend Guest of a Guest and Curbed co-hosted a Hamptons party that attracted a funny crowd composed of socialites, tech people, and as Business Insider put it, "straight-up celebrities." Foursquare founder Dennis Crowley came and brought a ton of beer! Union Square Ventures' Fred Wilson was also there. As far as boldface names go, the boldest was probably Mary Kate-Olsen, who wore all black and was apparently unwilling to have her picture taken. Did she mingle with the tech nerds? Probably not, since her pals Carlos Quirarte and Matt Kilegman from The Smile were there to keep her company, but here's what it might have sounded like if she had!
DENNIS CROWLEY: Hi, I'm Dennis.
MARY KATE OLSEN: Hello, I'm Mary Kate.
CROWLEY: Have you been to many tech parties?
MKO: …
CROWLEY: I go to them all the time so if you have any questions about what to do, or who people are, I could probably help out with that.
MKO: Sorry, and who are you?
CROWLEY: Oh, I'm the founder of Foursquare, the pioneering geosocial check-in service?
MKO: Is that sort of like Facebook Places?
CROWLEY: …
MKO: It's OK if it is.
CROWLEY: Do you know Lockhart Steele? Guy over there wearing the wallpaper shirt? Foursquare used to lease office space from his Curbed blog empire but we've grown so fast that we had to get a new office and now it's the other way around.
MKO: Wait, are you the ones that have been having all that trouble with scaling and hiring engineers?
CROWLEY: …
MKO: I read the papers!
CROWLEY: Heh. So have you checked in yet?
MKO: As if! I am really not on board with the whole location thing. Why would I want people to know where I am all the time? What if the paparazzi started following me? You probably have no idea what it's like to be a media darling.
CROWLEY: Well, actually–
MKO: Hey, is that Fred Wilson standing by that pile of colorful shoes? I have an iPhone app idea I want to pitch him.
CROWLEY: Oh cool, sure! What is it?
MKO: Mmm, I'd rather not say too much, but basically the idea is to sort of… enrich the urban experience by connecting users? But to focus just on twins.
CROWLEY: I love it! Here, I can make an introduction no problem. Hey, Fred, over here!
MKO: Oh, God! I didn't mean right now. Could you do it by email later? I need to go say hi to Carlos and Matt, it was nice meeting you!
CROWLEY: Wait, no! Stay! I'll give you your own Foursquare badge!