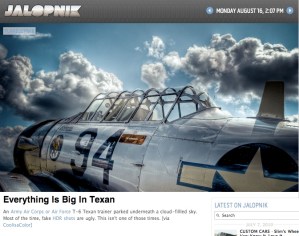 Gawker Media is playing with new look for its blogs, and readers can see what they're up to by visiting beta versions of the sites. The new look "thinks big," writes Peter Kafka at MediaMemo. He means that literally. The pages feature huge images for lead stories, some stretching across the browser's full screen and creating a TV-like effect. Meanwhile, the rest of the blog's content is relegated to a column on the far right.
"Web media needs to move to TV metaphor — with full-screen imagery and other content interrupted with full-screen ads," Nick Denton told Kafka in an email. "Everything right now is so, um, bitty."
As Kafka points out, Denton himself made everything "bittier" with the last redesign; but then again, he does seem to enjoy swift change-ups.
While Kafka has impressive screen shots of "super-sized art" at Jalopnik, things look a little rougher on some of the other sites — pixellated still from Mad Men dominated Gawker's homepage when we visited.