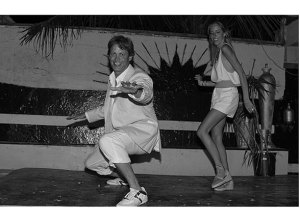 Matthew Mellon has money to spare but that doesn't mean the 46-year-old newlywed doesn't drive a hard bargain. The heir to the Pittsburgh banking fortune and his recently wed wife, society siren and former Ralph Lauren designer, Rachel Hanley Mellon, just snagged a bargain two-bedroom at The Pierre. According to city records, the couple paid $1.95 million for the marble-foyered apartment originally listed for $3.25 million in Jully of 2008, right about the time that Mr. Mellon proposed to Ms. Hanley, in fact.
Mr. Mellon, for whom this is the third nuptial, was married to Jimmy Choo high-priestess Tamara Mellon—until she cheated on him while he was in rehab and then sued him for "email snooping." But apparently all water is under the bridge, considering Tamara was one of few guests at the spur-of-the-moment wedding (he recently told W magazine, "we get along great!") Tamara was a guest with daughter Araminta at the April nuptials, which took place at Diane von Furstenberg's Harbour Island estate in the Bahamas. Mr. Mellon told W, "While eloping was always the plan, getting married on Harbour Island during Minty's spring break was a spontaneous idea."
Hopefully, the couple put a little more thought into real estate acquisitions, though this under-$2 million purchase seems to be a good buy for the social savvy couple who recently launched the design label, Hanley-Mellon. The apartment, listed by Sotheby's Lois Nasser, who could not be reached for comment, offers a living room with decorative fireplace and 10.5-foot ceilings. The Mellons bought the apartment from Charter Company founder Raymond K. Mason and his wife, Minerva.
"Abundant natural light flourishes from three exposures," coos the listing and the two master bedrooms have matching ensuite bathrooms and "large" walk-in closets—room for Jimmy Choos?