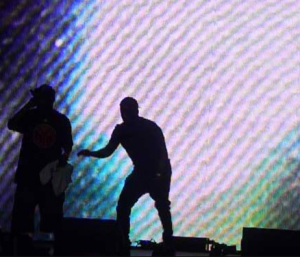 "Is hip-hop over here? Is hip-hop over here?" the rapper KRS-One, one of the great elder statesmen of New York rap, asked separate sections of his audience at Rock the Bells this weekend. "Real hip-hop is over here," he said later, stomping to the right side of a gigantic crowd. He turned left. "Real hip-hop is over here."
Geography was an important concern at Saturday's all-day show, which was a dreamy, idealized account of New York rap. On Governor's Island, in between Manhattan and Brooklyn, Queens' A Tribe Called Quest, Staten Island's Wu-Tang Clan and Bronx's KRS-One performed classic albums that are some of the best music the city has ever produced. "We represent the real fucking hip-hop," said the man who introduced the man who then introduced KRS-One.
KRS-One turned 45 this month, the same age as Slick Rick, whose "Children's Story" and "La Di Da Di" are two of rap's most giddy and buoyant songs. In the $409-a-person VIP tent, the first person waiting on the astoundingly long line to meet Slick Rick after his set was a 52-year-old redhead named Lauren. "I used to listen to him way back when," she said. "I raised my kids on MTV." He emerged in a black shirt, jeans, his famous eye patch, and a wad of plate-sized necklaces that would make a chiropractor uneasy. He sat at a table behind a railing, which Lauren stuck her chin out over to tell him her name. Slick Rick asked her something. She stuck her chin out farther. They talked and he smiled a big smile, with the right side of his mouth and mustache tilting upward toward his patch.
"He asked if I like his music," she said afterwards, as the rapper's medallions were crunching into the lawyerly-looking man next in line, who gave the rapper a one-armed hug.
Meanwhile, on the main stage, the rapper Rakim was performing, but without Eric B., his former DJ–and the first name credited on Erik B. and Rakim's Paid in Full from 1987. That gem is writerly, relaxed and minimal, but, in person, Rakim was unconvincing. The crowd idled inattentively. A man who looked like Gossip Girl's heartthrob Ed Westwick ordered a beer. He wore a straw hat with an enormous hole, big enough to stick a large hand through. For some reason, the hole was facing front, and the hat was tilted down and to the side. He wore a tattoo of an oversized feather on the back of his left arm: It was Ed Westwick.
Stuff White People Like's 116th entry, Black Music that Black People Don't Listen to Anymore, lists KRS-One and Wu-Tang. The blog also has a separate post featuring the cover of Midnight Marauders, the album A Tribe Called Quest performed on Saturday.
JOKES ASIDE, they played with bop, bite, and brightness. Limbs shook and waved.
But there was a horribly long wait for Lauryn Hill, who sometimes doesn't show at all. The sun was hot. First, her stage was set up: There were five keyboards, two electric guitarists, two bassists, and, for some reason, two drummers playing similar-looking drum sets, like in the Grateful Dead. A DJ ate up minutes by playing music and calling out locales. When a lot of New Jersey guys cheered for their state, this reporter booed half-jokingly, and a tall man in a Homer Simpson shirt said, "Actually, Lauryn Hill's from New Jersey. She went to Zach Braff's Bar Mitzvah."
"Lovely," she said when she came out. "Good to see you. Long time, long time." She has not released an album since her solo debut late last century, when she broke a record for Grammy nominations. Her performance was tremendous and odd: Her band's loud rock music back-up was closer to nu-metal than Funkadelic, and, as if to express its dissatisfaction, the sound system hissed and shrieked throughout the set.
But she was a spectacle, wobbling across the stage, stubborn and intense, stretching out "Fu-Gee-La" with nods to her friends and followers listening from the side of the stage-Mary J. Blige, Beyoncé and Jay-Z, Alicia Keys and Swizz Beatz. During "To Zion," she brought out the song's namesake, her son. "13 years old! Just had a birthday," she said. Two little girls and four more boys came out. "That's just to let you know I wasn't vacationing all this time," she said. "It was worth it, really worth it."
The Wu-Tang Clan hasn't made a great album in ten years, either. But, instead, members like Ghostface Killah have done solo work that's as good as anything in the world, except for Enter the Wu-Tang (36 Chambers), the debut they performed Saturday. What's scary about their music isn't its near-academic obsession with kung-fu and violence, but waiting to hear if they can straddle the line between dexterity and chaos. But the words clicked perfectly: It was moving to hear such a large group rapping so fiercely together over strange and ingenious beats for such a loving crowd.
They played solo-album songs, like GZA's "Liquid Swords," which began with everyone rapping along. But Method Man, wearing a strange hat — a kind of long detached sweatshirt hood — ran hushing around the stage, so GZA could do his beautiful first verse alone.
Boy Jones stood in for his father Ol' Dirty Bastard, who died of a drug overdose in 2004 at 35. "Just like his father," Raekwon said, shaking his head after "Shimmy Shimmy Ya." "Just like his father."
Afterwards, oddly, Snoop Dogg finished the night with his heavy-eyelid California rap. As the stage was being set up for him, someone came on to thank Metro PCS, the wireless service and sponsor. He was booed, which he complained about, but mostly people were turning away and heading to the ferries.