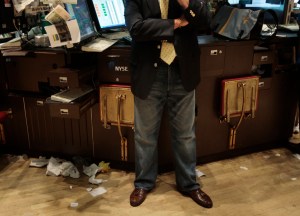 Dealbook reports today, via an internal GS memo, that employees who donated at least $25 to designated charities were permitted to wear jeans at the office for every Friday in August.
Though my esteemed colleague Max Abeleson reported that much of Goldman's hands-on charity work this summer has been with children, the charities made available to employees for the jeans fund were significantly more tesosterone friendly, including the Marine Corps Scholarship Foundation and the Navy Seal Warrior Fund.
Dealbook says that those who gave are certainly getting their money's worth: "Last Friday, there were traders walking around the floor with three buttons of their shirts undone, showing off their pecs and hairless chests," reported one female analyst. But isn't that always the way? The boss steps out to win one secret Southampton swim race and everyone goes hog-wild.