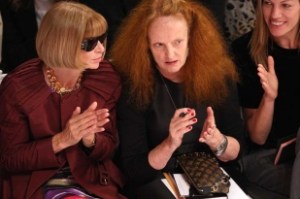 Vogue creative director Grace Coddington is at work on a memoir, reports WWD. Coddington won fans with last year's documentary The September Issue, in which she served as the fun alternative to Anna Wintour. Now, she'll be telling her life story—modeling in the sixties, getting in a car crash, becoming a stylist and editor—but also recounting fashion history. "It's more than just about me," she promises.
Coddington's previous work includes a $700 coffee table book called Grace: Thirty Years of Fashion at Vogue, and an illustrated book called Catwalk Cats. She'll be collaborating with former Men's Vogue editor-in-chief Jay Fielden, and her agent is Elyse Cheney, who's worked with n+1's Marco Roth and Ben Kunkel as well as The Times' Jodi Kantor.
Here's our question: In the world of Vogue books, does this one skew A.L.T. ("my inspiring mentors") or The Devil Wears Prada ("my terrible stories about Anna Wintour")?