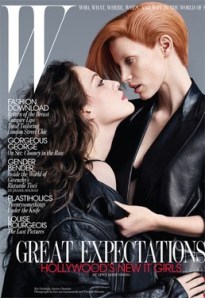 On Tuesday, Stefano Tonchi will present his first September issue of W and, along with it, his redesign of the magazine.
If the cover is any indication, Mr. Tonchi's changes are radical. The September cover is a triple gatefold,"which they'd never done," Mr. Tonchi told Memo Pad. He has also changed the magazine's logo to an italic W set in Benton. "It's kind of skinny, it's very vertical. It's very elegant and it is italic, with a sense of movement, evolution," he said. He has also added a tagline to the cover — "the who, the what, the where, the when and the why in the world of style" — and begun showing author's bylines on the cover, beginning with editor-at-large Lynn Hirschberg for September.
Ad pages for September are up to 249 from 192 last year, according to The New York Times. An iPad app for the magazine is scheduled to launch in February, and a redesigned wmagazine.com will go live in the coming weeks.
In an editor's note titled "Expect More" with the August issue, the first issue that Mr. Tonchi worked on, he wrote that with the redesign of the September issue, "we will learn from one another what a magazine is and what it can be, in our always changing new world." Mr. Tonchi gave September, his second issue, the title "Great Expectations."
"I wanted to have some self-irony," Mr. Tonchi told Memo Pad, "because there are so many expectations about what this W will be, so it refers to these eight great new girls, but also to the pressure that we feel to satisfy the expectations that people have for the magazine."