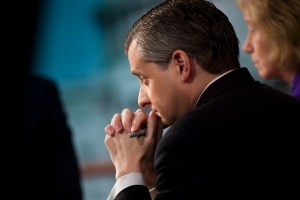 Jon Meacham resigned as the editor of Newsweek today, as Sidney Harman's deal to buy the magazine from The Washington Post Company closed, according to announcement on the magazine's website.
Mr. Meacham oversaw a big experiment in the Newsweek redesign last year, and, simply, it did not succeed. When Newsweek went on the block in May, Mr. Meacham said he was interested in buying the magazine. Within weeks, it was apparent that this was not plausible. At the same time, the critics came down hard on Mr. Meacham, and blamed him for Newsweek's failed experiment at creating an Economist-like magazine (he once told me that his magazine is for people who are interested in "what I'm interested in").
Mr. Meacham announced his resignation in an email to the Newsweek staff this afternoon:
"It has been a privilege beyond measure to have worked for NEWSWEEK and for The Washington Post Company for the past 15 years. I will always be grateful for the opportunity the magazine gave me to serve alongside all of you," he wrote the staff in an e-mail this afternoon. "For half a century the Graham family created and sustained a culture in which we were able to do good, important work, and I know NEWSWEEK will continue to do so.

"This summer I decided that the change in ownership was a natural occasion for me to move on, and I told Don and Ann [McDaniel, Managing Director of NEWSWEEK] that I would see the magazine through the sale and then explore what may be next for me. I wish Mr. Harman and his team all the success in the world. As I have told him, no one will be rooting for him, for you, and for the institution more than I will. The journalism you create matters to the country and to the world, perhaps now more than ever."
Though news outfits like Reuters and Politico had interest in Newsweek for about ten seconds, those candidates quickly vanished, and the short list of who was going to buy Newsweek became shorter and shorter. Enter Sidney Harman, who is the new owner of Newsweek and who we'll be taking a close look at in the weeks to come.