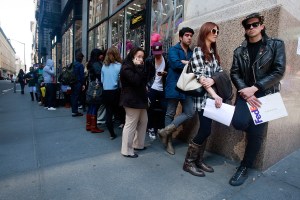 A post today on The Times' After Deadline blog examines the paper's usage of the word "hipster," which has been blowing up in recent years like it's your friend's chillwave band.
The post notes that the O.E.D. dates the slang back to the 1940s (think "angelheaded hipsters") but notes that the paper used the word just 19 times in 1990. By 2000, the usage had exploded to 100 instances, and since 2005 the paper has used it some 250 times a year.
Then of course, there's Brooklyn:
Ninety-six Times pieces in the past year that included the word "hipster" also mentioned Brooklyn, edging out even once-hip Manhattan, which had 87 overlapping mentions. Queens trailed badly with 33, while the Bronx merited only a handful and Staten Island just two.
Part of the recent explosion in "hipster" usage has to be the fact that there aren't many synonyms. For instance, Gawker deemed the term "played out" in 2009 and they're still using it left and right. Perhaps it's time to send "hipster" the way of "tweet."