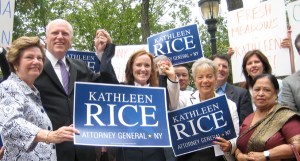 Earlier today, The Politicker published a report explaining how state Senator Shirley Huntley said she was mistakenly placed on a list of endorsers for Kathleen Rice.
"I have not made an endorsement of anyone," she said, although she added that she may make one in the future.
Well, that future appears to have arrived. Less than four hours later, Huntley said she had made up her mind.
"Yea, fine," she said when asked to explain the discrepancy. "I am endorsing Rice."
The phone call to Huntley was prompted by a phone call from Queens County Democratic Party executive secretary Mike Reich. Yesterday, the Queens County Democrats endorsed Rice and several local elected officials joined her at a press conference. Reich said he personally spoke with Huntley about endorsing Rice, and he accused the Eric Schneiderman campaign of pressuring Huntley to back out of her endorsement.
"I don't understand what is going on," he said. "I don't know if it's the Schneiderman campaign is trying to put pressure on her, using their connected resources, but it isn't right."
Reich said he called Huntley earlier in the week and said that the county organization would be endorsing Rice, and that Joe Crowley, the chairman of the Queens Democratic Party, "would very much like you to be a part of [Rice's] team." He said that Huntley told him that she needed to think about it, but when they spoke later she gave her endorsement to Rice. She also told Reich that she would unable to attend the press conference.
Reich denied that Huntley was pressured into joining the county party. Huntley is in a tight race of her own against a young upstart, Lynn Nunes.
"We don't have to threaten anyone. We don't do that. We don't have to because we are a tight, cohesive organization."
Huntley too denied that she was pressured–either by the Schneiderman camp or the Queens County party.
"Nobody pressured me to do anything," she said. "I am not a person who is pressured."
Assemblyman Andy Hevesi was also on the list of Queens elected officials who endorsed Rice, but he said today that he never gave permission for them to use his name. Reich said that the county party had spoken with Hevesi's staff and they had authorized the use of his name, "but he, for whatever reason, changed his mind."
When Huntley was asked what made her decide, she said, "Nothing, really. I just thought about it, that's all. And I decided I would go with her."