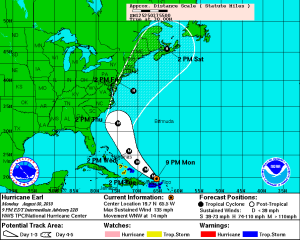 Hurricane Earl, a category 4 monster of a storm with winds in the "oh my God just hide in a bunker" range, has a new forecast path that brings it uncomfortably close to Long Island and portions of the New England coast. Speaking to the Christian Science Monitor, National Weather Service meteorologist Dennis Feltgen said there is a "200 to 300" mile margin of error in forecasting the storm's path, "But everyone needs to be paying attention to this." Also:
Even if the storm does not hit the coast, forecasters are certain it will cause rough surf that could prevent thousands of residents and vacationers in the Northeast from enjoying a dip in the ocean this Labor Day weekend.
Accuweather.com meteorologist Henry Margusity told the Monitor that Earl could conceivably hit Long Island "like a bad nor'easter storm" but another jog west could bring the storm "over eastern Long Island and then Boston," potentially causing damage from the storm surge pushing up the Hudson River in addition to high winds.
Nicholas Coch, a professor and preparedness expert at City University of New York, said New York is well-prepared for a storm like Earl, but "New Yorkers are born complacent." New Yorkers, says Coch, "never believe the hurricanes are going to hit, they think it will veer or the cold water will stop it."
New Yorkers do have some reason to not worry too much over tropical systems–Wikipedia's helpful List of New York Hurricanes shows that outside of a rare storm like the New England Hurricane of 1938, which equaled a category 3 on the Saffir-Simpson Scale, most of the major storms that have hit the northeast in the last 100 years have been relatively mild when compared to the monsters that have struck southern coastal states.
Still, it's worth noting that there have been enough hurricanes to make a list.
[CSM]