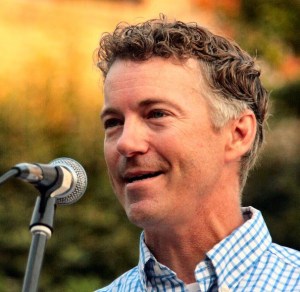 GQ published a piece online yesterday about Rand Paul's time at Baylor University in Waco, Texas. Mr. Paul, a GOP candidate running for the Senate in Kentucky, was involved in a secret society called the NoZe Brotherhood. Jason Zengerle, the author of the piece, spoke with one woman who said that Mr. Paul and an accomplice from his society kidnapped her and tried to make her take bong rips in 1983. That's mostly true!
"They knocked on my door, and then they blindfolded me, tied me up, and put me in their car," she said. "They took me to their apartment and tried to force me to take bong hits."
The Washington Post's Greg Sargent followed-up with the woman and asked her to elaborate on what happened. She said she didn't mean to suggest that she was kidnapped "in the legal sense." Mr. Zengerle made the woman available to Mr. Sargent after Mr. Paul's camp attacked the GQ item. The word "kidnap" never appeared in Mr. Zengerle's story.
"There was an implicit degree of cooperation in the whole thing. I felt like I was being hazed," she said. But hazed in a fun way! She spoke on anonymity to both reporters because she is a clinical psychologist who works with veterans, some of whom are Tea Partiers. According to Mr. Sargent, she "fears that complicating Paul's Senate run could put her in danger."
A spokesperson for GQ said the magazine stands by the story.