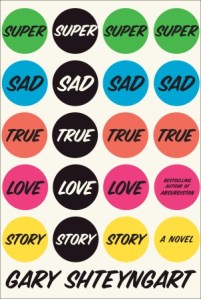 Today: The Times Book Review gets its hands on Super Sad True Love Story. According to Michael Wood, "The sheer exhilaration of the writing in this book … is itself a sort of answer to the flattened-out horrors of the world it depicts."
Previously this summer:
– Michiko Kakutani called the book "supersad, superfunny, superaffecting."

– Deborah Solomon asked Shteyngart some questions and did not even seem very hostile.

– The same day, Shteyngart wrote an essay for The Book Review.

– The next week an excerpt from the book ran.

– The Times' Real Estate section noted Shteyngart's nice new apartment in Gramercy (also noted by Chloe Malle).

– And The Times' Fort Greene Local blog reported that according to Shteyngart Brooklyn is "the future of books." No need to feel excluded, outer boroughs! GARY SHTEYNGART LOVE FOR ALL.