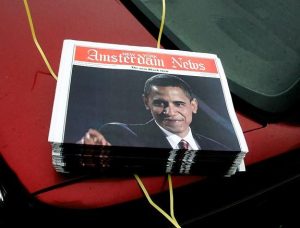 The first newspaper endorsement of the 2010 cycle (I think? Right?) is in, and it goes to…Eric Schneiderman, from the African-American newspaper the Amsterdam News. This should not come as a surprise. As we pointed out last month, in a news story about the AG's race, the paper appeared to let some editorial bias show in favor of the state Senator from the Upper West Side.
Then they said Schneiderman "looks to be the favorite for attorney general, especially with New York City residents. He's had a big hand in passing hate crime legislation, the Women's Health and Wellness Act and increasing the minimum wage in Albany. His advocacy for eliminating prison gerrymandering practices in New York State has been chronicled in the AmNews before."
And of his chief rival, Kathleen Rice, the paper was a little less kind: "Some have begun to question Rice's commitment to the democratic process after the New York Times reported that Rice did not vote for 18 years once she was eligible to vote, casting her first ballot in 2002. She also initially registered as a Republican in 1984 before running for district attorney as a Democrat in 2005…many of New York's citizens of color remain skeptical of her, with her sketchy voting record, opposition to reforming the Rockefeller Drug Laws, and zeal to prosecute."
You can check out the full endorsement here.
Schneiderman is campaigning in Buffalo today with state Senator Antoine Thompson, and meeting with black clergy and community leaders. His campaign also says that he will be attending the funeral services for victims gunned down outside a Buffalo restaurant last week.
One last item of note. If endorsements equal votes, Schneiderman is in good shape. He has more than he can fit on one palm card.