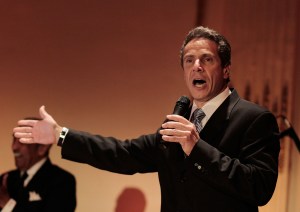 Yesterday, the New York Daily News endorsed Andrew Cuomo for governor, choosing to "cut to the chase," as they said, because of the weakness of the candidates on the right.
Consequently, Andrew Cuomo's name appears infrequently in the newspaper's endorsement of him. The endorsement actually feels more like venting — specifically, venting about Rick Lazio. Lazio is criticized for his "paint-by-numbers" agenda, attempts at campaigning on the Park51 mosque and for losing the Senate race in 2000. "New Yorkers deserve a return to the Executive Mansion of a governor with the fiber to hold to fundamental principles," the editorial reads. "That is not Lazio."
As it was with the state Democrats' first ad, the piece seems to think the less that can be said of Carl Paladino, the better. He receives just three paragraphs mention in the piece, though that is still, by our count, two more than Andrew Cuomo.