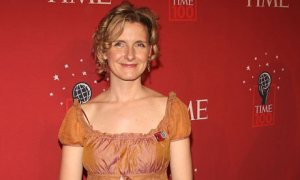 Author Heather Wagner has had a hard time selling her novel but she still managed to publish a post about this problem in Vanity Fair's "VF Daily." Wagner describes her problem with Eat, Pray, Love (both book and film) as personal: "I don't have an inspiring life story to tell," Writes Wagner, "one that seamlessly translates from Oprah's couch to Pinot Grigio-soaked book clubs, to the big screen." Wagner did complete a novel she describes as "humorous fiction," and she's been looking for a new agent and publisher. As her stack of rejection emails grew, Wagner says she was struck by "what a long, soul-searching shadow Eat, Pray, Love has cast over the publishing world."
There was, Wagner says, an "eerie uniformity" to the rejections she received, and this uniformity reflected how Eat, Pray, Love is preying on the minds of agents and publishers now. Wagner quoted choice lines from her rejection emails. Here are a few:
"Women's fiction of this sort is really difficult these days unless there's a unique angle, or promotional platform."
"I'm concerned that your protagonist does not have a strong passion, one that really defines her."
"I'm sensing there could be more of a journey for this character-emotionally and even perhaps geographically."
"A memoir with this tone could be very marketable."
"You're a talented, witty writer, but regretfully, I will have to pass. Have you considered non-fiction, or memoir … or YA?"
"Are there vampires in this novel?"
The sad thing is that by the time Wagner is done with the "high-concept" YA-flavored vampire memoir she jokes about writing at the end of her post, it is likely the publishing world will have moved on to proto-pulp, concrete/literalist zombie war diaries.
[VF Daily]