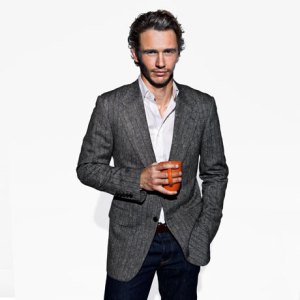 Oh Holy Toledo, Esquire has assembled a giant web feature called "James Franco Seven Ways." Because that is a whole lot of James Franco and not everyone has the preternatural powers of concentration posessed by James Franco, we have gone through it all to see what is worthwhile.
"Four Introductions to James Franco," A Memoir by Bill Hader: Highly worthwhile.
"Keep Doing What You Are Doing, James Franco," A Short Story: We applaud the sentiment articulated in the title but the story itself is unfortunately not worthwhile. James Franco could do better, probably.
"The Dangerous Book Four Boys," An Art Exhibit by James Franco: Photos of James Franco's show at the Clocktower Gallery. This will hardly be new to the avid Francowatcher.
"Just Before the Black," A Short Story by James Franco: OLD.
"He Who Is of Name," A Poem: "Be you my unknown savior or unknown jester, I hail you" — your call.
"The James Franco Video Project": It's filmed by his brother. Cute.
"The Itinerant Artist," A Profile: James Franco reads Twilight and contemplates writing a children's book. We disagree with his assessment of Twilight ("It's crazy how much sexual tension there is"). We learn that he has been accepted to creative writing PhD programs, as well as something at RISD. Not a bad addition to the Franco profile canon.
Ultimately, we respect the effort to cover James Franco in a James Franco-esque fashion (i.e., by doing everything in every available medium), but we find the whole to be less than the sum of its parts. More intriguingly — does this mean Esquire was the "other magazine" Sam Anderson lamented in his New York piece? Franco discussed this unpleasantness in USA Today:
"Sam was calling me and e-mailing me for months and months. I was amenable to an interview but, because of the other obligation, I told him I had to wait. He said, 'I'm not going to wait.'"
Our lesson: nobody can wait for James Franco.