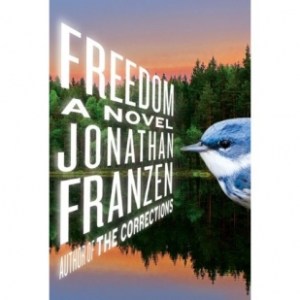 President Obama obtained a copy of Freedom Friday while vacationing on Martha's Vineyard. But instead of delight, it seems that "Publishing Panic" ensued:
Other bookstores, believing that Bunch of Grapes had broken the embargo, threatened to sell the book early…. Eager readers who saw that Mr. Obama had the book in hand tried to get their own copies, only to be told that it wasn't on sale yet. "People are confused," said Jake Cumsky-Whitlock, a manager at Kramerbooks in Washington, who personally fielded a handful of requests for the book on Sunday. "One gentleman was somewhat indignant. He was sure that we were wrong."
It was, The Times concedes, "a small panic," but still: people's extreme eagerness to buy a book is disconcerting. As is this kind of review:
The Corrections made it plausible to speak of Franzen in the company of Philip Roth. This new book demands comparison rather with Saul Bellow's Herzog or something loftier — it is self-evidently a modern classic…. Freedom is the novel of the year, and the century.
What are you supposed to do with this kind of thing?