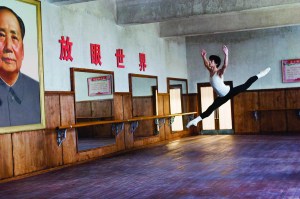 As I depart for my annual August vacation, I leave you with a highly recommended magical experience you must not miss. A giant hit at the 2009 Toronto Film Festival, Mao's Last Dancer, by the great Australian director Bruce Beresford (Driving Miss Daisy), is a feel-good film bursting with courage, energy and overwhelming inspiration. Based on the best-selling memoirs by dance sensation Li Cunxin, it is the epic saga of a poor Chinese peasant boy living during the dictatorship of Mao Tse-tung, who is plucked from a crude, one-room schoolhouse in the remote rural province of Shandong at age 11 and sent to ballet school at Madame Mao's Dance Academy in Beijing, eventually becoming a principal dancer with the Houston Ballet and ending up a celebrated international star. Unbelievable but true, it is as entertaining as it is astounding. In the cherished tradition of heartbreaking movies about personal triumph against impossible odds, it is a combination of Billy Elliot and Rocky.
In the cherished tradition of heartbreaking movies about personal triumph against impossible odds, it's a combination of Billy Elliot and Rocky.
The extraordinary journey of this remarkable young man, which Mr. Beresford and award-winning screenwriter Jan Sardi (Shine) bring so memorably to life in overlapping periods, begins in obscure poverty when he is taken from his home, family and the villagers who love him and plunged into a strange world of rigorous training to perfect a pure technique he never quite understands. His ironic discovery by Ben Stevenson (the artistic director of the Houston Ballet and part of the first American cultural delegation to Communist China), who sees potential in Li and became his mentor, advances the boy another step up the ladder to success. At 19, granted unheard-of permission from Mao's regime as one of the first exchange students to travel abroad, on a three-month student visa, in 1980, Li faces new hurdles. His parents expect him to bring honor to their humble station, his country expects him to represent China like a good, loyal and cynical comrade, drawing attention to Communism while trusting no one. Terrified and confused, he is the first boy from his province to travel to Beijing, much less the world beyond. Landing in the U.S. in a stiff, outdated, Chinese government-issued suit, he is like Dorothy arriving in Oz. Housed and guided by the kind but flamboyant Stevenson (wonderfully acted by the charismatic Bruce Greenwood), he takes little time overcoming culture shock, adjusting to alien Chinese restaurants and realizing that the Communist propaganda drummed into his head about America as a place of deprivation and darkness is a lot of hokum. The more he experiences of Texas cooking, kung fu movies, miraculous kitchen appliances, American hospitality and tennis shoes, the more distanced he grows from the ideals of Communism and the rigid dogma of Chairman Mao. (Against the rules of the Cultural Revolution, he also discovers the thrill of admiring political defectors like Nureyev and Baryshnikov without fear of arrest while watching forbidden tapes.) Capitalism, he confesses, is groovy.
The plan is to return home after three months, but no amount of bureaucratic red tape can trump the power of talent, love and artistic freedom. Through Stevenson's faith and encouragement, Li makes a career-changing debut as a principal soloist dancing Don Quixote to great acclaim, and falls in love and marries another dancer. Then, when all attempts to extend his cultural-exchange visit are denied, he refuses to leave, making international headlines with a wrenching defection that gets him kidnapped and held hostage inside the Chinese Embassy in Houston. Facing world outrage, the Chinese finally grant him the freedom to seek political asylum, causing cruel hardships and repercussions for his family back in China. Distilling so much drama and turmoil into two hours is not easy, but by the time the film completes Li's long and arduous journey, in 1986, when his parents are finally allowed to fly to the U.S. to see him dance for the first time, you will marvel at how much is accomplished. I predict the highly charged emotional finale will leave you cheering.
Li Cunxin also danced in his native China with the Houston Ballet in 1995, bringing joy and redemption to his family in a performance broadcast to an audience of 500 million people. Today he lives with his second wife, dancer Mary McKendry, and their three children in Melbourne, Australia, where he has changed careers to become a senior stockbroker. Bruce Beresford gets it all down and gets it right. A no-frills traditionalist who knows exactly what he's doing in every scene, he does not monkey around with lap dissolves, incomprehensible time frames, computerized special effects, fast cuts and other smart-aleck camera tricks, yet he always keeps the audience fluidly involved. The beauty of Beijing and the rugged wilds of the sweeping Chinese sequences, filmed on actual locations, are the real deal. The choreography in the ballet numbers is magnificent. Three fine actors play Li Cunxin at different stages of his life: Huang Wen Bin as the child; Chengwu Guo as the teenager; and Chi Cao, a handsome principal with England's Birmingham Royal Ballet, who makes an impressive film debut as the grown-up Li. They are all awesome. Veteran actress Joan Chen, as Li's mother; Kyle MacLachlan, as Li's lawyer; and a number of ballet luminaries as Li's wives, friends and partners are all exceptional. Mr. Beresford gives them all resonance as characters while never losing the emotional arc of the narrative. This first-cabin director returns to top form, with this revelatory film his best in years. More than that, Mao's Last Dancer is a masterpiece.
rreed@observer.com
MAO'S LAST DANCER
Running time 117 minutes
Written by Jan Sardi
Directed by Bruce Beresford
Starring Bruce Greenwood, Chengwu Guo, Joan Chen, Kyle MacLachlan, Chi Cao

4 Eyeballs out of 4