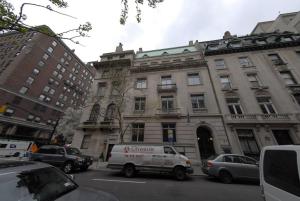 -Real Estate mogul Aby Rosen's opulent townhouse at 22 East 71st Street, formerly the galleries of crooked art dealer Lawrence Salander and infamous for its $75 million 2008 pricetag, was pricechopped to $59 million early this summer. Now, according to Streeteasy, it's listed as "No Longer Available" and the Sotheby's listing with Serena Boardman and Meredyth Smith is nowhere to be found. Whether this means that the 45-foot-wide limestone townhouse has been taken off the market temporarily or permanently is unclear—and, of course, until proven otherwise there's always the chance that it is no longer available because someone took a $59 million fancy to it. Stay tuned…
– A month ago the foreclosure auction of hip hop entrepreneur Damon Dash's Tribeca condo at 25 North Moore Street hit the press. The selling price at auction was $5.5 million and went to Platinum Capital. Now the deed in city records confirms a price of $5.6 million (the extra $100,000 possibly part of the new additional costs tabulation ACRIS is pioneering).
– According to the blog Harlem Bespoke, the former Harlem brownstone of Langston Hughes is back on the market for $1 million. The ivy-cloaked townhouse at 20 East 127th Street was listed last year for $1.2 million before taking a brief hiatus from the market.