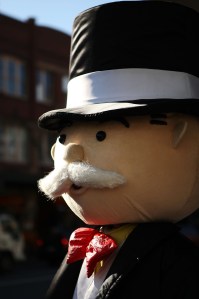 A complete stranglehold over an entire industry just isn't what it used to be.
After lovable billionaire philanthropist and rapacious capitalist warrior Warren Buffett exited the muni-bond insurance game in 2009, fellow billionaire Wilbur Ross has become the sole major investor in insurance of the $2.8 trillion market for American municipal debt. Holding 16 million shares Assured Guaranty, Ross has an exclusive shot at domination in this business. If a town wants to insure the debt it raised to pave a new parking lot, it's going to have to talk to Ross. Nevertheless, the 72-year-old investor is far from sitting pretty, Bloomberg reports.
The problem is that municipal bonds have been a chief area of concern since the first groundswells of the credit crisis. Falling tax revenue and investment losses in pension funds have left local governments scrambling to cover their debt. Defaults have abounded this year; 46 municipalities have defaulted, leaving creditors holding the bag for $1.7 billion in bonds so far in 2010.
It's probably not comforting to Ross that he's been left alone in this risky market thanks not only to the exit by Buffett, one of the greatest investors of all time, but also by the struggles of other bond insurers Ambac and MBIA. The two enfeebled insurers have lost their AAA-credit status on losses from mortgage-backed securities.
It just goes to show how far we've fallen that sole dominion over one of the biggest pre-crisis moneymaking machines these days draws more raised eyebrows than envious stares. After all, if you can't trust a monopoly, what can you trust?