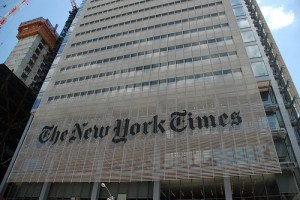 Yesterday, Google and Verizon both issued brief statements addressing a New York Times article in which it was reported that the two companies were nearing a deal that would undermine the principles of net neutrality. The statements were so strongly worded that it seemed like there could only two scenarios: either Google and Verizon were just being crazy and lying, or the New York Times was wrong.
Ed Wyatt, the author of the article, explained the ramifications of the deal in the opening paragraphs, saying that it would,
…allow Verizon to speed some online content to Internet users more quickly if the content's creators are willing to pay for the privilege. The charges could be paid by companies, like YouTube, owned by Google, for example, to Verizon, one of the nation's leading Internet service providers, to ensure that its content received priority as it made its way to consumers. The agreement could eventually lead to higher charges for Internet users.
Google tweeted: "@NYTimes is wrong. We've not had any convos with VZN about paying for carriage of our traffic. We remain committed to an open internet."
A spokesperson told the Guardian: "The New York Times is quite simply wrong. We have not had any conversations with Verizon about paying for carriage of Google traffic. We remain as committed as we always have been to an open internet."
Verizon's denial was equally severe. In a post titled, "New York Times' Story is Mistaken," the executive director of media relations wrote:
The NYT article regarding conversations between Google and Verizon is mistaken. It fundamentally misunderstands our purpose. As we said in our earlier FCC filing, our goal is an Internet policy framework that ensures openness and accountability, and incorporates specific FCC authority, while maintaining investment and innovation. To suggest this is a business arrangement between our companies is entirely incorrect.
What's odd is that The Times wasn't the only news organization reporting on this, something that was noted by FastCompany. Bloomberg and the Wall Street Journal were too, citing their own sources on variations of the same news. Why did Google and Verizon single out The Times? Was there some way in which the Times story was "mistaken" that the Bloomberg and Journal stories weren't? Or did they just address The Times because they knew it would ring out as loudly as they needed it to, and they didn't want to draw unnecessary attention to the other reports.
The Times responded. Diane McNulty, a spokeswoman for the paper, was quoted in Romenesko saying that the paper was standing by the reporting, "which is based on information from sources in a position to know about the conversations. Google's comment about The New York Times story refutes something The Times story didn't say." They sent out a tweet to the same effect.
Then the paper published another story on the deal, not backing away an inch from its original reporting. Wyatt quoted the chairman of the F.C.C. saying it was "unacceptable" for companies like Verizon to charge for access to their fast lanes. He reported that a meeting– the latest in what has become known as the "secret meetings"– between the F.C.C. and Verizon, Google, and other big Internet companies that had been scheduled for Thursday was canceled as a result of "press reports."
Will Google and Verizon make more noise today?