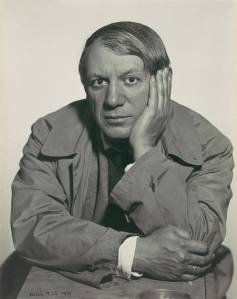 When the Met shut the doors this month on their home grown Picasso In The Metropolitan Museum, it had become, despite tepid reviews, the first Post-Montebello blockbuster and one of the most popular exhibitions in the museum's history. The seventh most popular, in fact, an impressive feat for most everyone besides King Tut, the gilded royal who tops the list of the six shows that pipped Picasso:
Treasures of Tutankhamun — 1,360,957 visitors from Dec. 20, 1978 to April 14, 1979. Timed tickets for this four month show—commonly called the first blockbuster—sold out immediately, prompting the unprecedented sight of scalpers outside of the Met. They hawked a half hour with the mummy's loot for the low low price of $20: the Met's current suggested donation.
The Mona Lisa by Leonardo da Vinci — 1,077,521 visitors from Feb. 7, 1963 to March 4, 1963. Leave it to the Mona Lisa to be nonplussed by Mr. Tut. She may have drawn fewer visitors than he, but one million people in a single month is certainly something to smirk about. On her last day up she was ogled by 63,675 before returning—by boat!—to France.
The Vatican Collections: The Papacy and Art — 896,743 visitors from Feb. 26, 1983 to May 12, 1983. Advance sales by Ticketron and Tele-tron for this exhibition of the Pope's treasures lagged badly, prompting the Met to take the unusual step of advertising on the subway. Whether it was positive reviews or straphanger enthusiasm, it worked.
Painters in Paris: 1895-1950 — 883,620 visitors from March 7, 2000 to Jan. 14, 2001. Like the Picasso show, Painters In Paris was drawn entirely from the Met's permanent collection and featured Picasso's "Portrait of Gertrude Stein." Stout Gertie, however, was not the only draw. A smattering of Monet, Miro and Modigliani, plus the general enthusiasm of the pre-9/11 museumgoer, meant an extra 180,000 people.
Origins of Impressionism — 794,108 visitors from Sept. 27, 1994 to Jan. 8, 1995. This one, it must be said, was a no brainer. Everyone, from Minnesota grandmas to Minnesota goths, drools for Monet. These 169 works by Claude and his plein air buddies drew crowds with no problem, save recurring traffic jams caused by director Philippe de Montebello's verbose Acoustiguide.
The Horses of San Marco — 742,221 visitors from Feb. 1, 1980 to Aug. 31, 1980. We mean no slight to the bronze horses of Venice, but if they were more popular than Pablo, it's only because they had two extra months to make 40,000 friends. They required no timed tickets, bulletproof glass or subway advertisements, but drew crowds steadily through winter, spring and summer. If you'll pardon the contradiction, we'll call it a quiet blockbuster.
Picasso in The Metropolitan Museum of Art — 703,256 visitors from April. 19 to Aug. 15, 2010.
Even more galling, Picasso couldn't even beat Picasso. MoMA's 1980 retrospective of the little Spaniard brought in 782,000 over three months.