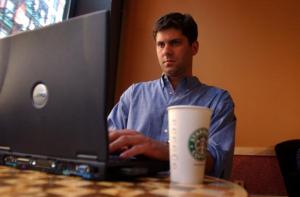 Not having Wi-Fi is "now a market niche," Everything But The Coffee author Bryant Simon tells the LA Times. Some West Coast coffee shops have begun passing off their lack of internet as a strength rather than a liability:
Dan and Nathalie Drozdenko turned off the Wi-Fi at their Los Angeles cafe when it malfunctioned. The complaints poured in, but so did the compliments: Lots of customers appreciated a wireless cup of joe at the Downbeat Cafe, a popular lunch spot in Echo Park.

"People come here because we don't offer it. They know they can get their work done and not get distracted," Dan Drozdenko said.

This is a 180-degree turn from the always-on culture of San Francisco, where the first Wi-Fi cafe went online in 2000.
Now that Starbucks gives away the Internet for free, the Times finds, independent coffee shops can't use it to lure customers.
This development must be quarantined to San Francisco and Los Angeles before our downstairs neighbor The No-Password Bakery hears tell.