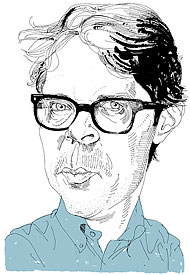 New York Times Book Review editor Sam Tanenhaus has rendered judgment on Freedom. He seems to like it!
Jonathan Franzen's new novel, "Freedom," like his previous one, "The Corrections," is a masterpiece of American fiction. The two books have much in common. Once again Franzen has fashioned a capacious but intricately ordered narrative that in its majestic sweep seems to gather up every fresh datum of our shared millennial life.
You heard the man: every fresh datum. Now we are going to spoil the end of the review:
Walter, groping toward deliverance, mourns "a fatal defect in his own makeup, the defect of pitying even the beings he most hated." But of course it is no defect at all. It is the highest, most humanizing grace. And it cares nothing about power. Like all great novels, "Freedom" does not just tell an engrossing story. It illuminates, through the steady radiance of its author's profound moral intelligence, the world we thought we knew.
Jodi Picoult will be delighted to read this, we're sure.