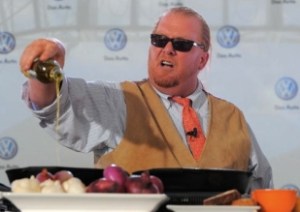 Mario Batali now has a "vegetable butcher."
Michael Wolff does not seem to like Cranky and Wise Kaplan as much as everyone else does.
The Times can't get enough of Vice.
Chris Anderson is "not proud" of reading Gawker every morning.
Sometimes birds have a hard time not flying into things.
What to do when Mad Men mocks you.
Betty White is a machine: now she's writing two books for Putnam.
Look, it's a new thing for nerds to want.
What went wrong for Barnes & Noble.
What James Franco did today: "James Franco was so impressed with the fair trade coffee he purchased this morning from a small coffee shop in the Lower East Side he promptly got on a plane and flew to Guatemala where he visited the Manos Campesinas Fair Trade Coffee Cooperative. While there Franco got a tour of the co-op and befriended a farmer named Julio. They are now Facebook friends."