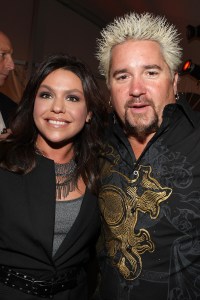 It's easy not to like television food personality Guy Fieri. He is loud, has highlights at 42, hawks unhealthy food, frequently wears his sunglasses nowhere near his eyes and hosts a game show that is both successful and the epitome of dumb. But rest assured that no matter how much you dislike Mr. Fieri, The Times dislikes him more.
Beneath today's Times profile is a seething undercurrent of rage, one that stops just short of calling Fieri and his fans rednecks, opting instead to use coded language to make the same point.
Here's a handful of places where their intimations are not subtle:
As the first chords of "Sweet Home Alabama" thrummed through the Circus Maximus at Caesars Atlantic City…

The charisma that recently inspired a middle-aged mom to throw her lavender-colored bra onstage during a cooking demonstration was on full display.

…last year was grand marshal of a Nascar race, a ceremonial honor that has also been bestowed on Kim Kardashian, Kevin Costner and the radio host Todd Clem, known as Bubba the Love Sponge.

…Evel Knievel, a longtime idol and powerful fashion influence.

…making him the face of the network's new collaboration with the N.F.L., a series about tailgating that will be shown this fall.

…his real passions: food, family, music, fast cars, sports and generally having an excellent time.

…his buddies, who go by names like Gorilla, Mustard, Kleetus and Dirty P.

….a signature dish at [Fieri restaurant] Tex Wasabi's is found in the "gringo sushi" portion of the menu: the Jackass Roll, filled with pulled pork, avocado and French fries.

"Will organics prevail?" he asked, furrowing his rubbery, normally cheerful face as he fretted that America is at a culinary crossroads. "I don't know…

"Guy, what is your next car after the Camaro?"

….he has a Sarah Palin-like ability to reach Americans who feel left behind by the nation's cultural (or, in his case, culinary) elite.