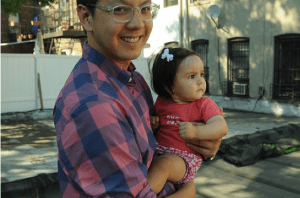 Four and half years ago, Khoi Vinh walked away from the award-winning design firm that he co-founded to take a plunge into the corporate world. He was hired as the design director of nytimes.com to lead a team of a dozen designers who were rebuilding the way The New York Times is read online.
When Mr. Vinh came on board in 2006, The Times website looked nothing like it does now. It was the construction paper and glue stick version of the site that exists today. Headlines and bylines were awkwardly bold. White space was scattered and haphazard. There were only a handful blogs on the site and no commenting. All of that changed during Mr. Vinh's tenure, and he oversaw the The Times' design side as the paper moved onto the iPhone, the iPad and a number of other digital platforms.
Then this summer, as his team was entering a second year of paywall preparations, Mr. Vinh resigned.
"I probably won't go back into news," he told The Observer last week, nearly two weeks after his last day in the office. "I wasn't really a journalist when I went into The Times. I find journalism to be a fantastic design challenge. I'm a designer first."
Mr. Vinh was drinking a San Pellegrino over ice behind the zinc bar at Ground Support on West Broadway in SoHo. He sat on a bar chair next to us, looking over an espresso machine and the cafe's dish sink through his clear plastic glasses. Mr. Vinh wore slate-gray slacks and a white button-down shirt patterned with a grid in two shades of blue. His tote bag matched his shirt, and inside he carried his iPad and a crinkled issue of The New Yorker folded open to The Talk of The Town.
"For all the flak that they take for being old media, I think that they do a great job keeping current with the times and establishing best practices that other publishers particularly can follow," Mr. Vinh said about The Times. "They'll never be the early adopter, but they're far from laggards."
Mr. Vinh described one part of the design process leading up to The Times paywall launch as "sort of an endless round robin of meetings and discussions."
"I knew that when I went in there. I knew what I signed up for," he said, adding that designing for corporations that reach millions of people often requires extensive collaboration. "At the end of the day, it's a big company with a lot of stakeholders, and a lot of people have to weigh in on every decision."
Designing a paywall that will satisfy everyone at The Times, let alone one that doesn't bother readers, requires the utmost finesse. How do you get readers to pay for articles today that were free yesterday? "The key is to get them at that moment when they understand the value, and that understanding translates into a transaction," Mr. Vinh said. "And how do you hint to this idea that eventually, you know, you have to pay? And then when they get there, how do you pull in all the different user-experience factors so that the decision is completely logical to them, and they say 'of course I'll pay'?"
One way of trying to make logical design decisions is through research. Mr. Vinh's team has been studying traffic patterns on the site and watching test subjects, real readers, in a lab to see how their eyes move across the page when they are reading The Times online.
"I take it all with a grain of salt," he said. "Everything is so measurable now, theoretically. But the truth of the matter is, there's never enough data to substitute for raw decision-making abilities. At the end of the day, you still need to make the decision."
Mr. Vinh has mixed feelings about the way publishers are rushing into apps on the iPad. He pointed out that you don't need an app to read the newspaper on a mobile device.
"I really like this app," Mr. Vinh said, tapping opening The Times Editor's Choice app on his iPad. He fingered through to an article about Leonard Nimoy's photography and chuckled to himself. "I think we did a good job on this app given the time that we had to turn it around, but I still prefer a web browser," he said. "I feel like that's the most up-to-the-minute experience, and it's a full experience."
Mr. Vinh installed the Wired app, but he had not taken the time to download the June or July issues of the magazine. "I don't think it's such a great idea," Mr. Vinh said. "Magazines are such a weird format for digital content consumption."
"Content apps are weird," he continued. "If you look at most of the apps that are really successful, they're functionally driven — like Twitter or shopping or subway maps. I think it's weird to have an app just for reading when you can just read right on the web."
"The one thing about a magazine app is that if they can bring back the kind of ad revenue they had in print, then that's fantastic, that's great, and more power to them," he said. "I'm just skeptical,"
We asked Mr. Vinh how designing specifically for the iPad was different from other digital design work.
"It's a really interesting shift away from the idea that a brand owns a piece of real estate and talks in its language exclusively," Mr. Vinh said. He called the shift a new paradigm for design. He held his iPad in both hands and stared at the screen. "The thing is it's not that this platform has a monopoly," he said. "It's just the platform everyone wants to be on."
After some contract work for companies in the coming months, Mr. Vinh might launch a start-up of his own. He's interested in social media. "I have some ideas of my own. I have a really specific great idea that I'm hoping I can make happen. We'll see. It's all new to me. I haven't ever been in a position where I need to raise capital or put together a technology team," he said.
"As much as I liked it there [at The Times], I really wanted to try something different," he said. "Ultimately I decided that if I don't get out and try to do something small, or start something new on my own, or join a startup that's much scrappier, then I would never have the opportunity to do it."
When announcing his resignation from The Times on his blog, Mr. Vinh said that he was full of regret. He wrote that being design director of nytimes.com was the best job he'd ever had and that he felt passionate about the importance of The Times as a "force for good in the world."
"I don't think anyone was shocked," Mr. Vinh said. "Modesty aside, I think they were sad that I was going. But I think to everybody it seemed like it made sense for me to go."
Upon hearing the news, one of the designers on Mr. Vinh's team created a set of buttons. One of them read "I worked for Khoi." His name was set in large gothic type.
Mr. Vinh said that it was especially hard to accept that he was leaving when he heard about upcoming design projects at The Times. "It wasn't that I had done everything I wanted to do there," he said. "It was more that I realized I had a window of time to try something different."
zturner@observer.com / @zekeft