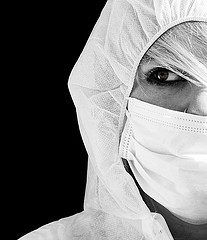 It was a time of war and disease, of dire and doom-laden reports of death from abroad. At home, mortuaries overflowed and funeral homes closed their doors to new business. Fear was a pall upon the land. But that was 1918. The Great Pandemic of 2009/2010, which caused a mini-boom in business for vaccine manufacturers, makers of surgical masks and antibacterial gel, ended up not being all that widespread or deadly. The World Health Organization (WHO) says it's basically over:
"We are moving out of the pandemic into the post-pandemic period," said Margaret Chan, director-general of the WHO.

Chan said that while several countries — including India and New Zealand — are still experiencing significant H1N1 flu transmission, out-of-season flu outbreaks are no longer being reported in the northern or southern hemispheres.

"This pandemic has turned out to have been much more fortunate than what we feared a little over a year ago," Chan told reporters in a news conference Tuesday.
According to Chan, humanity was fortunate this time because the virus did not mutate into something out of a Stephen King novel, vaccines developed to fight the bug worked (unlike the Swine Flu scare of the 1970s, when the vaccine ended up killing more people than the flu itself), and the antivral prophylactic Tamiflu worked like it was supposed to. Speaking from Hong Kong, Chan said that the world had been "aided by pure good luck."
The WHO announcement comes months after the Atlanta-based Centers for Disease Control (CDC) declared the U.S. Public Health Emergency at an end.
So now we're left with the regular seasonal flu bug, which still kills an average of 25,500 people a year.