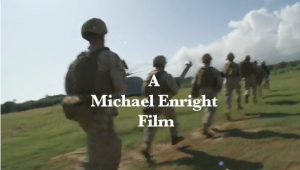 A Flickr account under the screen name Michael Enright contained a set of photos from Afghanistan's Helmand Province. In the Helmand set was a larger version of a photo of Enright used in a Village Voice news blog post conclusively linking anti-Muslim hate crime suspect Michael Enright, arrested Sunday for repeatedly stabbing Muslim cab driver Ahmed Sharif, with a student filmmaker with the same name.
Enright was doing work with Intersections International. This is significant because Enright is accused of stabbing Sharif after specifically asking if he was Muslim and Intersections International issued a statement earlier in August expressly supporting the intensely controversial Cordoba House sometimes referred to as the "Ground Zero Mosque":
Intersections supports the efforts of its partner organizations, The Cordoba Initiative and the American Society for Muslim Advancement, to develop a Community Center and Muslim prayer space, called "The Cordoba House," at 47-51 Park Place in Manhattan.
In an update to his "Runnin' Scared" blog post about Enright, Voice blogger Foster Kamer confirmed Enright's trip to the war zone by quoting a Post article in which Enright admitted to police that he "had recently spent time with a combat unit in Afghanistan filming military exercises until this past May."
This is what Intersections International wrote about their relationship with Enright on a webpage titled, "Veteran-Civilian Dialogue":
Intersections is working in partnership with Mike Enright, an aspiring filmmaker at the School of Visual Arts in New York City. Mike has embarked on an extraordinary documentary film titled, "Home of the Brave." His project, with unprecedented access by the military, follows a Marine Unit from pre-deployment to the front line in Afghanistan, inquiring of these soldiers what they need from civilians both during deployment and upon their re-entry into society.
A trailer for Home of the Brave, "a Michael Enright Film" is embedded on the same page:
http://www.youtube.com/watch?v=zLPAAIJWIBo&feature=player_embedded
Michael Enright has been charged with attempted murder. ABC News reports that he was classified while at Bellevue Hospital after the incident as an Emotionally Disturbed Person, or EDP.
["Runnin' Scared"/ABC]