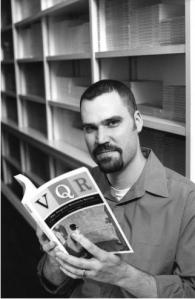 More fallout from the suicide of Virginia Quarterly Review editor Kevin Morrissey: the lit journal has closed down its offices at the University of Virginia (Charlottesville) and canceled the winter issue of VQR. In addition to this, NYT's "Arts Beat" reports that the names of 3 out of five remaining staffers of the Review are gone from the masthead. The NYT also quotes University of Virginia spokesperson Carol Wood, explaining the closure:
"The staff has been through a lot, and they needed to step away and take some time," she said. "We thought it might be best for all involved on the staff to take a break and step back and wait for the conclusion of the internal review."
VQR will be closed until the university has completed its investigation of the circumstances surrounding Morrissey's July 30 suicide. VQR editor Ted Genoways was accused of bullying Morrissey and contributing to the depression that led Morrissey to take his own life.
[NYT]