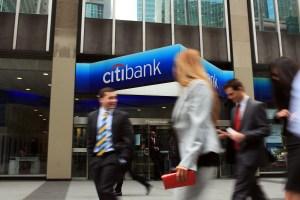 The Wall Street Journal does a bang-up job today reporting on the fake name that's been signed at the bottom of Citibank customer relations letters for the past twenty years. The writer's trials in trying to find the non-existent "S. Larson" make for a great read and provide a fascinating insight into just how dumb the company thinks journalists are.
"People have shipped dead rats," said one Citi employee, by way of explaining the pervasive secrecy surrounding the full name of the supposed customer service representative. They go to great lengths to carry out the charade, going so far as to give him or her differing fake titles.
Asked what year Citi mailed its first S. Larson letter, [Public Affairs Vice President Jerry] Nachtigal said, "I don't think I can tell you that." Is S. Larson a woman? "I can't tell you that, either," said Mr. Nachtigal.
But it's innocuous! Especially for a lie coming out of Wall Street. There wouldn't have been a story if they'd been honest, and now it's on the front page. We should probably just be grateful that there weren't any references to dragon tattoos.
Update 11:47 a.m.
Citi has sent us a statement, which they apparently also sent to The Journal, reiterating their stance that S. Larson exists but that its identity must be protected.
"In order to protect the personal privacy and security of our employees and in the interest of fairness, we do not discuss non-public information about any of our employees. While we are proud of S. Larson, we are also proud of all of our more than 25,000 customer service colleagues who are focused on serving all of our Citi customers every day."