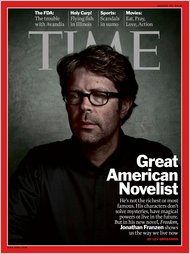 Jonathan Franzen is the first living American novelist to appear on the cover of Time in ten years, according to ArtsBeat. Stephen King was on the cover in 2000.

The magazine's profile of Mr. Franzen dwells on the topic of otters:
Otters are congenitally happy beasts. They don't worry about their future, even though they're legally a threatened species and their little estuary is literally in the shadow of the massive 500-ft. stacks of a power plant.

One of the humans admiring them is Jonathan Franzen. Franzen is a member of another perennially threatened species, the American literary novelist. But he's not as cool about it as the otters. He's uneasy.
Ah, to be a species fighting against extinction. Mr. Franzen's latest work is out at the end of the month.