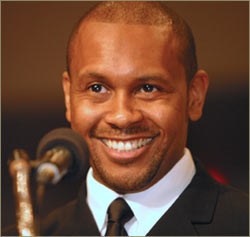 Yesterday, The Politicker reported on a rather bizarre interview that Congressman Ed Towns gave to the NPR morning show "The Takeaway," in which the one time Afghanistan war critic seemingly had seen the error of his ways after visiting the country with David Petraeus.
"Progress is really being made," he told the show hosts, and, despite evidence to the contrary, Towns seemed to see the coalition forces growing in number:
When there is talk of some pulling out there is also some talking about getting further involved. When you talk about one group pulling out, you have the Koreans talking about getting more involved. I think that that's something that is very very important. So you have some talking about pulling out and you have others talking about getting more involved, so I think that cancels itself out.
Today his primary opponent Kevin Powell is out with a release knocking Towns over these statements.
According to campaign manager Aaron Golembiewski:
Our allies are leaving in droves because they don't see any end to this fight or progress, and we're supposed to hold on because Korea, who has its own issues with North Korea and is possibly preparing for war, is coming to replace us? The Congressman sits as an Ex-officio member on Subcommittee on National Security and Foreign Affairs due to his dubious presence as Chairman of Oversight and Government Reform Committee and he has one of Washington's most abysmal attendance records, but any reader of any publication anywhere should know that his idea is simply preposterous and shows a really limited understanding of world affairs.
Towns had previously been an opponent of the war in Afghanistan, voting last month against funding the effort over there, and against most foreign interventions in general. He has been known however to not exactly be on message. Continues Golembiewski:
I'm shocked that Congressman Towns, after years of admirably opposing war, has suddenly become a War Congressman who illogically votes against providing the troops the funding they need to protect themselves and then expects South Korea to save us. That's not even simply trying to have it both ways. Towns just doesn't make any sense at all."