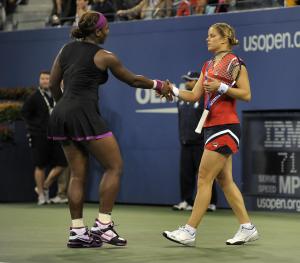 We've established that plenty of folks are skeptical with whether Serena is actually injured, but Kim Clijsters is not one of them.
After Clijsters' straight sets first round victory today over Greta Arn, the returning U.S. Open champ said she's seen Serena's injury and it's legit.
"I saw the injury, so…and it's not something that she's making up or that it's a small cut or anything," she said a press conference this afternoon.
She said she saw the injury when the two played in an exhibition in Belgium in July shortly after the injury supposedly occurred. Clijsters said that the injury affected both of Serena's feet–something I didn't know until now.
But when she was asked whether it was the top or the bottom of her feet, Clijsters stayed quiet.
"Um, I don't remember," she said. "I wasn't paying such close attention."
Color me (still) skeptical!