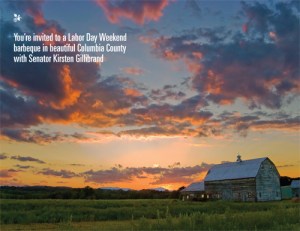 Well this should be a hoot.
Senator Kirsten Gillibrand is inviting her supporters over to her home in Hudson for a Labor Day BBQ, all for the low price of $100. The event will feature a "bounce house" for the yung'uns, locally sourced Hudson Valley foods, and a presumably, Harold Ford in a dunking booth. Plus, the campaign is sponsoring a contest that allows one lucky winner and guest to get in for five bucks.
No word on what kind of digs (or yard) Gillibrand sports, but perhaps lucky attendees will be able to check for the guns under her bed?
One can imagine at the very least that the steaks will be intensely regulated.