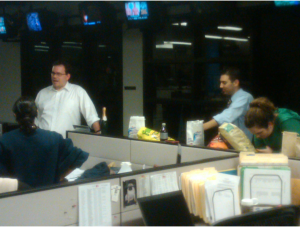 "When I came in my office this morning, there was somebody where my chair is passed out in a sleeping bag," Erik Wemple, editor of the brand new Albritton-owned Washington local news site TBD, told the Media Mob this afternoon over the phone. "That is what I came into. Pretty much everyone else is running around trying to get good stories on the site."
After nine months of preparations, TBD went live last night around 4:15 a.m. It is supposed to bring the same obsession and speed to Washington local news that Albritton's Politico brings to politics. And it seems like they've already figured out how to keep Mike Allen hours.
Mr. Wemple left the offices before the site launched last night in order to be sharp this morning. "I was here until around 3, and it was decided that somebody had to take the afternoon shift, so that would be me," he said. "I went home and got three hours of sleep."
We know that any mention of late night snacks and sleeping bags are the sort of decorations that always adorn stories about a site launch or a late breaking story. Nevertheless, the snacks tell a story.
TBD general manager Jim Brady, a former online executive editor of the Washington Post, took the night shift. He went on a late-night run to 7-Eleven around 2 a.m. to buy Red Bull, Spicy Nacho Doritos, Tootsie Rolls, pretzels, Funyuns and powered-sugar Hostess Donettes, according to the sleepless Mike Allen.
"The media landscape in Washington will change forever," a bleary-eyed Mr. Brady told the staff shortly after the site launched following his snack run. A photo of Mr. Brady speaking to the staff shows a bottle of André Extra Dry and some Diet Coke.
"Do you want me to get confirmation on that stuff?" Mr. Wemple asked us, referring to the snacks. "If you give me two seconds I can copy down what was bought there."
"I'm not too tired to laugh," Mr. Wemple said. "Nothing went catastrophically wrong. It was smoother than anyone could have expected."
"We didn't have a lot of immediate, sort of, breaking news stuff, because we've just been busy testing the site and getting it going," he added. "That's going to come in the next wave."
Mr. Wemple said that his web producer — the person who controls the placement of stories on the site — was a little overwhelmed at the moment. "They're like — [sighs deeply] 'Holy moly, you want me to do what?'" Mr. Wemple said. "He is a locus of very frenzied clicking. He's very quick, but it's basically trial by fire there."
Figuring things out as they go will be part of the TBD spirit. "Sculpting this product in plain view of users, we figured, would present a refreshing break from the tradition of launch perfectionism," Mr. Wemple wrote in an editor's note to TBD readers this morning.
"It seems like something of a blessing to have launched in August because we have a lot of internal work flow issues and we're trying to figure out how to work with the new site from just a very fundamental level," Mr. Wemple said on the phone. "The fact that there aren't 9 million critical things happening in terms of news gives us a little bit of breathing room."