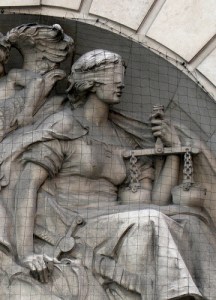 Scott Bullock, a graduate of the Seton Hall School of Law, is very unhappy with his career path. Law schools, Bullock tells the Star-Ledger, are scams:
As they enter the worst job market in decades, many young would-be lawyers are turning on their alma maters, blaming their quandary on high tuitions, lax accreditation standards and misleading job placement figures. Unless students graduate from schools like Harvard or Yale, they "might as well be busing tables," Bullock said.

"It's really just a big Ponzi scheme," said Bullock, 33, of Bridgewater. "They're just cranking kids out for $45,000 a year."
The Star-Ledger linked to an American Bar Association memo in which ABA president Carolyn Lamm addressed the current economic climate colliding with the expectations of law students, writing, "Far too many law students expect that earning a law degree will solve their financial problems for life. In reality, however, attending law school can become a financial burden for law students who fail to consider carefully the financial implications of their decision."
Scott Bullock seemed to lay the blame squarely on schools for the depressing realities of launching a law career today. As a prospective student he was overwhelmed by the institutions's hard sell talk of salaries in the hundreds of thousands and extremely high job-placement rates. This, Bullock contends, left him unprepared for low-paying temp positions at large firms where he was just one of a crew of recent grads toiling in the trenches.
While the article, published Sunday, ended on a positive note, Scott Bullock may have had second thoughts about revealing he was the guy formerly known online only as "Law is 4 Losers." His blog, "Big Debt, Small Law" has been deleted. Bits and pieces are still available in Google's cache, and they provide samples of just how angry he was. Writing in a post made Aug. 4, Bullock linked to a Times article about western lawyers working in India and commented that it was a "sad, sobering look at a once-great country being sucked forever down the toilet."