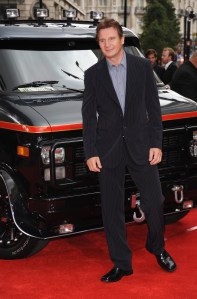 Irish-American actor Liam Neeson (the Schindler's List lead became a U.S. citizen a year ago) recently sold his two-bedroom co-op at 91 Central Park West for $1.352 million, say city records.
And while the 2,300-square-foot corner apartment sold for slightly less than the listing price of $1.375 million, it only lingered on the market for a measly five days, according to Streeteasy. Mr. Neeson and his late wife, actress Natasha Richardson, bought the apartment for $1.4 million in 1994.
Mr. Neeson, who recently starred in The A-Team and is slated to guest star in the Showtime series The Big C, lives with his two teenage sons in an 1810 farmhouse in Millbrook, N.Y., where he wed Richardson the same year they bought the Central Park West apartment. Richardson died tragically in March 2009 from an epidural hematoma sustained while skiing in Canada.
Buyer Alan Holtz, a corporate restructuring expert at Alix Partners, told The Observer that he and his wife, Jill, looked at apartments "for a few months" before stumbling upon the Love, Actually actor's Lincoln Square co-op, which turned out to be "just what we were looking for."
The Holtzs' New Jersey home will remain the family's home base–the couple has two daughters–with the CPW abode functioning as a pied-à-terre. The co-op, which Mr. Holtz called "a beautiful apartment in a beautiful building in a beautiful neighborhood," boasts high-beamed ceilings and oversize windows, and was listed with Plaza Real Estate Group's Amy Himes, who declined to comment. Giorgio Armani is an upstairs neighbor.
Was it exciting to buy the apartment from Oskar Schindler?
"It's interesting, but it wasn't a factor in our decision," Mr. Holtz replied demurely.
What is Mr. Holtz's favorite Neeson film?
"I would say Taken. It was required watching for our teenage daughters before traveling."
cmalle@observer.com