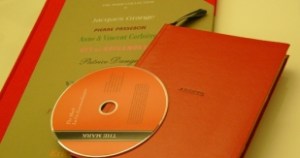 The uber-tony Mark Hotel on the Upper East Side was partially converted to co-ops during the real estate boom, drawing all sorts of uninhbited praise and lavish expectation. In the fall of 2007, the New York Post splashed a supposed record-breaking $150 million deal for the Mark's penthouse on its front page. The buyer was supposed to be billionaire Len Blavatnik. (That little whoops turned into a little brouhaha involving the Post, Gawker and your friendly newspaper here.)
Anyway, listings soon afterward did hit the Internets, and they were, to no surprise, quite gigantic: the aforementioned penthouse, with its five bedrooms and eight bathrooms, asked $60 million—with over $35,000 in monthly maintenance costs (those were the days, kids). The co-op's developers, the Alexico Group, sent out snazzy, French-tinged marketing materials that seemed to be trying a bit too hard.
Apparently, they didn't try hard enough.
The Wall Street Journal reports today that Alexico has turned to none other than Goldman Sachs to dig the Mark out of a $200 million-plus hole. Only two co-ops have sold, apparently, for a grand total of $15.7 million, and lender Anglo Irish Bank is understandably skittish.
Alexico initially planned to raise $308 million by converting 42 of the hotel's 160 units into luxury co-operatives. After a lack of interest, Alexico last year scaled back its plan to selling about 10 suites with the aim of raising $167 million. … Anglo Irish has been severing relationships with other Alexico projects. Earlier this year, the bank sold loans to the developer's Alex Hotel and Flatotel with a face value of about $230 million for around $180 million to Rockpoint Group, a real-estate investment firm, say people familiar with the matter.
The co-ops still up for grabs, two years after the boom's bust, include the penthouse. Yours for $60 million.