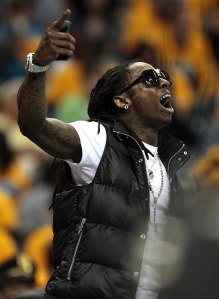 With the world's tennis greats ready to step onto the courts at Flushing, Weezy won't let a stint in Rikers stop him from
moonlighting for Sports Illustrated on the U.S. Open
. Lil' Wayne is no stranger to sports journalism, having
maintained a blog
for
ESPN the Magazine
. But given his situation, this new venture has to proceed in a more epistolary fashion. In clean script written on
Sports Illustrated
letterhead, Wayne expounds on his love for the game with charming modesty. "I genuinely appreciate this opportunity to express my love for tennis," the note begins.
I am a huge Nadal fan! I'm definitely rooting for him to get the grand slam and win the U.S. Open. He's already become the 2nd youngest player to win 8 major titles before the age of 25. He's halfway there to Roger's 16. And even when battling Knee tendonitis, he's still ranked #1. His Wimbledon performance was one of a kind. He simply plays with pure passion and leaves it all out there on the court.
He ends with the letter with a prediction: "Nadal wins it all!" Courtesy Mr. Carter, you heard it here first.
So, in case you still needed convincing, an official endorsement from Weezy F. Baby should end all discussion of Nadal as Na-Dull.