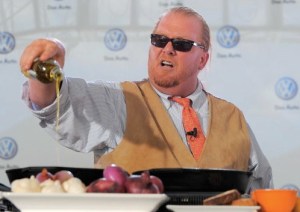 Mario Batali will be writing a vegetarian cookbook, he tells the Detroit Free Press (via the Daily News).
As we have fond memories of the lamb brain ravioli at Babbo, this initially surprised us. But Batali's interest in meatless cuisine is nothing new, the Daily News reports:
He's already hosting "Meatless Mondays" at all 14 of his restaurants, reports PETA, in which at least two vegetarian options are offered on that day each week….

The chef has already cut back on meat consumption, reducing meat to just five meals a week, according to VegetarianStar.com.

"I'm a vegetarian all day until dinner, and I try to eat no meat whatsoever on Monday and Tuesday."
Besides, careful eating is what comes of hanging out with Gwyneth Paltrow, she of the GOOP-y detoxes and sometime macrobiotic diet.