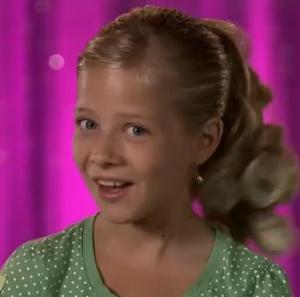 Britain's Got Talent gave the world an awkward Susan Boyle mounting the stage to surprise the audience with her serviceable Broadway mezzo-soprano, then cleverly packaged the whole thing as an unexpected moment that set the world on its ear. It looks as though America's Got Talent is hellbent on doing the same with this video of adorable 10-year-old Pittsburgh-based singer Jackie Evancho:
http://www.youtube.com/watch?v=xPITHzdUUDk
The allegedly unscripted narrative for Susan Boyle was that she'd been a bit of a spinster hiding the golden light of her talent under a bushel for most of her life. Jackie Evancho, however, is already a product. She's had her own website for a while (it's currently slammed, no doubt by high traffic) and her own Wikipedia entry. The Wikipedia article notes that the little girl is a "classical crossover artist" who has already released an album and performed with notables such as producer David Foster.
It's probably not important to anyone searching for something buzzy and diverting in the dead heat of summer that Evancho is singing Puccini arias in the wrong key or that classical voice pedagogues usually hesitate to seriously train any singer under age 14; it's August and we need some good "reality" TV. Take good care of the voice, Jackie, you'll still need it when the cameras are gone.