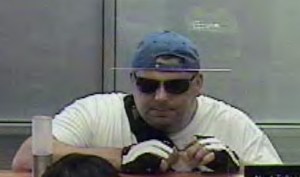 Two different thieves attempted to rob Chase banks in Midtown last week with unsuccessful results.
On Friday, around 3:25 p.m., a bank robber, described to be in his 30s, wearing dark jeans and a blue bandanna around his neck, entered a Chase branch on Seventh Avenue at West 37th Street and handed a demand note to the teller. Instead of complying, the gutsy employee simply walked away and hit the panic button. The New York Post later reported that the note read, "This is a robbery, hand over all cash except bait money. You have 15 seconds or else the customers!" And when he saw the bank teller walking away, the robber shouted, "No, this is serious!" Apparently, the teller did not see it that way, and the thief fled empty-handed northbound on Seventh Avenue.
Then last Wednesday, another Chase branch on Eighth Avenue, near Port Authority, was targeted by a seemingly amateur thief, who entered around 1:20 p.m. and passed a note to the teller demanding money. The teller refused and the thief, also in his 30s, wearing khakis and a black messenger bag, ran away too.
But this thief didn't give up. Ten minutes later, the midtown bank robber entered Sovereign Bank on West 52nd Street, about ten blocks north of the Chase branch, and this time made a verbal attempt, simply asking the teller to hand over the cash. After receiving the money, he fled on his bicycle.
Valuable lesson: Don't try to get anything out of Chase tellers; it's useless.