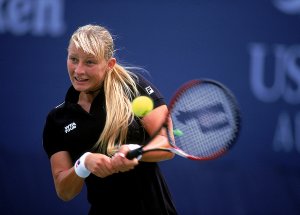 Mirjana Lucic, it's been a long time!
This was a player who blew onto the scene as a 15-year-old when she won a women's doubles title with Martina Hingis in Australia and made the Wimbledon women's singles Semifinals in 1999. She was going to be a star!
Unfortunately, that's about all she achieved. Lucic hasn't won an Open match since 1999. She hasn't won a Grand Slam match in eight years. She hasn't even played at the Open in eight years.
What happened? In 2006, the Daily News' Wayne Coffey wrote a 3,000 word profile of the former-star as a case study of all that go wrong with a young athlete these days. For one, she alleges that her father beat her, and stole her money. She alleges that IMG, her former agent, tormented her as well, and led her to financial ruin. She also said that IMG, among other things, forced her to take Wellbutrin against her wishes. Read the piece, it's really nutty.
Up until the Open, she had won all of $39,780 in prize money. Today, Lucic defeated Alicia Molik 7-5, 6-1 on Court 6, which means she'll pick up at least $31,000 for the year.
How does she feel now?
"I feel fantastic," she said. "I'm so so happy. I worked so hard to get here."
How can you not love this story!
She described life over the last few years while she came back: Playing in $25,000 tournaments, hitting the qualies, playing every day and every week.
"It felt like I climbed the mountain just to get through those tournaments, so I feel really good now," she said.
She said she thinks she's got a few more years in the tank, but for now, she'll take the money and the happiness of winning again.
"Well, you know, it's funny," she said. "Every match I win now, it's like winning an entire tournament."
She gets Jelena Jankovic in the next round who struggled today and won in three sets.
OR COMPLETE OBSERVER U.S. OPEN COVERAGE: http://observer.com/usopen and http://twitter.com/koblin