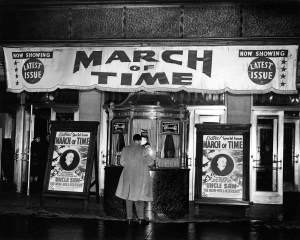 To mark the 75th anniversary of the series, the MoMA will be showing a collection of "The March of Time" newsreels, the Journal reports.
"The March of Time," a Time Inc. product, ran from 1931 to 1951 and stood out from other newsreels for it narrative-heavy storytelling. It began as radio show that had voice actors playing the role of, say, Hitler. Eventually, they transitioned to iconic the pre-movie film format one normally associates with newsreels, which will be on display. Hotly anticipated titles include "Inside Nazi Germany" (1938) and "Show Business at War" (1943).
The series had a curious place in the history of journalistic formats, as the article notes. As plans were made for the shift to film, The New York Times said the series, compared to other newsreels, would be "as a discursive magazine bears to the newspaper." Henry Luce himself said, via memo: "'It's terrific, but what is it?"
Will the iPad app or the podcast have a similar place in the history of journalistic storytelling? And what of the hastily rewritten blog item? At any rate, the newsreels seem like they've aged much better than some of the museum's other recent acquisitions.